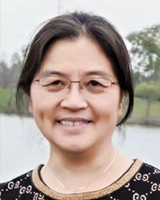 Bin Yang
EDUCATION BACKGROUND AND ACADEMIC EXPERIENCE
2018-present: Honorary Professor, Cardiovascular Sciences, University of Leicester; Senior Research Scientist, University Hospitals of Leicester
2015-2018: Honorary Reader, Infection, Immunity and Inflammation, University of Leicester
2012-2015: Honorary Senior Lecturer, Infection, Immunity and Inflammation, University of Leicester
2008-2012: Honorary Lecturer, Infection, Immunity and Inflammation, University of Leicester; Senior Research Scientist, University Hospitals of Leicester
2004-2008: Honorary Lecturer, Cardiovascular Study, University of Leicester; Postdoctoral Research Associate, University Hospitals of Leicester
2001-2004: Non-clinical Lecturer, Infection, Immunity and Inflammation, University of Leicester
2000-2001: Postdoctoral Research Assistant, Sheffield Kidney Institute, University of Sheffield
1995-1996: Visiting Research Fellow, Sheffield Kidney Institute, University of Sheffield
1994: Visiting Research Fellow, Institute of Nephrology, University of Beijing
1992-1997: Lecturer & Specialist Registrar in Nephrology, Affiliated Hospital of Nantong University
1989-1992: Research Assistant & House officer, Medicine, Affiliated Hospital of Nantong University
1997.09-2000.07: Doctor of Philosophy in Medicine, awarded PhD in Jan 2002, University of Sheffield
1986.09-1989.07: Doctor of Medicine, Nephrology, awarded MD in Jul 1989, Nantong University
1981.09-1986.07: Bachelor of Medicine, awarded MBChB in Jul 1986, Nantong University
RESEACH HIGHLIGHTS
From 2010, I have led a research team with awarded project and fellowship funding. A series of biological models have established, such as unique isolated kidney perfusion system that has used to preserve human kidney donors before transplantation. Cell culture, rodent and porcine models have been used to study mechanisms of kidney diseases, and human samples such as renal biopsies have been also used to define biomarkers, and validate translational interventions. More recently, I am leading AKI-related clinical studies to further validate selected biomarkers such as SERPINA3 and SILP1 against commonly used NGAL and KIM-1 in urine and blood samples from high-risk patients. I also designed an organ/cell target gene therapy using caspase-3 siRNA conjugated with a ligand peptide (HBSP) that will be guided by its receptors (EPOR/βcR) highly expressed in injured kidneys. To generate siRNA-HBSP conjugate, I am collaborating with colleagues in Chemistry and Preclinical Research Facility in Leicester, and Biomics and Biotechnologies Co Ltd. in China, to maximize productivities and outcomes.
MEMBERSHIP IN PROFESSIONAL SOCIETIES / COMMITTEES / EDITORIAL BOARDS
Jiangsu Distinguished Medical Expert, China, since 2016; Visiting Professor: Fudan University, China, since 2009; Distinguished Professor: Nantong University, China, since 2009. Invited speaker for different national and international conferences for more than 30 talks, including UK and China Universities such as King's College London, Sheffield University, and Tongji, Fudan, Shenzhen, Beijing, Nanjing, Yangzhou and Nantong University. Academic member of British Transplantation Society, Renal Association, European Society of Organ Transplantation, the Transplantation Society, and Asia-Pacific Association of Medicine and Bio-Immunology.
SELECTED PUBLICATIONS
65 papers in peer-viewed journals and 52 collected by Web of Science, with impact factor over 200, as the corresponding author or the first author for most papers (see selection list); total citations over 800. Two book chapters: (1) siRNA therapy in acute kidney injury, in RNA Interference,ISBN: 978-953-51-4614-8,Editor: Abdurakhmonov OY, InTech, 2016; (2) Pathogenesis of Chronic Allograft Dysfunction Progress to Renal Fibrosis, in Renal Fibrosis: Mechanisms and Therapies, Advances in Experimental Medicine and Biology, ISBN: 978-981-13-8871-2, Editors: Liu BC et al., Springer Nature Singapore Pte Ltd, 2019.
Yang C, Qi R, Yang B*. Pathogenesis of Chronic Allograft Dysfunction Progress to Renal Fibrosis. Adv Exp Med Biol 2019;1165:101-116
Liu A, Yang B*. Role of TRPM7 in Renal Ischemia-Reperfusion Injury. Curr Protein Pept Sci 2019;20:777
Aifen Liu, Jing Wu, Cheng Yang, Yuanyuan Wu, Yufang Zhang, Fengbo Zhao, Hui Wang, Li Yuan, Lirui Song, Tongyu Zhu, Yaping Fan, Bin Yang*. TRPM7 in CHBP-induced renoprotection upon ischemia reperfusion-related injury. Sci Rep 2018 Apr 3;8(1):5510
Zwaini Z, Dai H, Stover C, Yang B*. Role of Complement Properdin in Renal Ischemia-Reperfusion Injury. Curr Gene Ther 2017;17(6):411-423
Hou-Yong Dai, Li-Na Ma, Yun Cao, Xiao-Lan Chen, Hui Shi, Ya-Ping Fan, Bin Yang*. Protection of CTGF Antibody Against Diabetic Nephropathy in Mice Via Reducing Glomerular β-Catenin Expression and Podocyte Epithelial-Mesenchymal Transition. J Cell Biochem 2017 Nov;118(11):3706-3712
Tang Q, Yang B, Fan F, Li P, Yang L, Guo Y. Effects of individualized exercise program on physical function, psychological dimensions, and health-related quality of life in patients with chronic kidney disease: A randomized controlled trial in China. Int J Nurs Pract 2017;23
Zhang Y, Chen W, Wu Y, Yang B*. Renoprotection and Mechanisms of Erythropoietin and Its Derivatives Helix B Surface Peptide in Kidney Injuries. Curr Protein Pept Sci 2017;18(12):1183
Yang C, Yang B*. Acute kidney injury in China: A neglected truth and perspective. Asian J Urol 2016 Jan;3(1):4-5
Yang C, Zhang C, Zhao Z, Zhu T, Yang B*. Fighting against kidney diseases with small interfering RNA: opportunities and challenges. J Transl Med 2015 Feb 1;13:39
Cheng Yang, Tian Zhao, Zitong Zhao, Yichen Jia, Long Li, Yufang Zhang, Mangen Song, Ruiming Rong, Ming Xu, Michael L Nicholson, Tongyu Zhu, Bin Yang*. Serum-stabilized naked caspase-3 siRNA protects autotransplant kidneys in a porcine model. Mol Ther 2014 Oct;22(10):1817-1828
Zitong Zhao, Cheng Yang, Long Li, Tian Zhao, Lingyan Wang, Ruiming Rong, Bin Yang*, Ming Xu, Tongyu Zhu. Increased peripheral and local soluble FGL2 in the recovery of renal ischemia reperfusion injury in a porcine kidney auto-transplantation model. J Transl Med 2014 Feb 23;12:53
Yuanyuan Wu, Junlin Zhang, Feng Liu, Cheng Yang, Yufang Zhang, Aifen Liu, Lan Shi, Yajun Wu, Tongyu Zhu, Michael L Nicholson, Yaping Fan, Bin Yang*. Protective effects of HBSP on ischemia reperfusion and cyclosporine a induced renal injury. Clin Dev Immunol 2013;2013:758159
Cheng Yang, Long Li, Yinjia Xue, Zitong Zhao, Tian Zhao, Yichen Jia, Ruiming Rong, Ming Xu, Michael L Nicholson, Tongyu Zhu, Bin Yang*. Innate immunity activation involved in unprotected porcine auto-transplant kidneys preserved by naked caspase-3 siRNA. J Transl Med 2013 Sep 13;11:210
Shuai Jiang, Qunye Tang, Ruiming Rong, Liangfeng Tang, Ming Xu, Jidong Lu, Yichen Jia, Yitreen Ooi, Jun Hou, Jianming Guo, Bin Yang*, Tongyu Zhu. Mycophenolate mofetil inhibits macrophage infiltration and kidney fibrosis in long-term ischemia-reperfusion injury. Eur J Pharmacol 2012 Aug 5;688(1-3):56-61
Bin Yang*, Sarah A Hosgood, Michael L Nicholson. Naked small interfering RNA of caspase-3 in preservation solution and autologous blood perfusate protects isolated ischemic porcine kidneys. Transplantation 2011 Mar 15;91(5):501-507